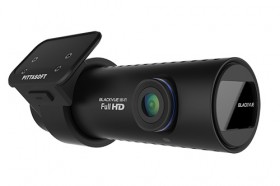 The DR750GW 1 CH is a single forward facing camera which has built-in GPS, tracking vehicle location and speed with 3 Recording modes – Normal Mode, Event Mode (G-sensor) and Parking Mode (Motion + G-sensor).Parking mode optional battery or battery saver need.
Built-in Wi-Fi allows you to communicate with the Dashcam via the free Blackvue app on your smartphone or tablet to watch recorded or live videos without taking out the micro SD card .The Blackvue App is compatible with Android, iOS and Windows 8.
The Blackvue DR750GW 1 CH Dashcam has an internal G-sensor, detecting vibration, collision, and abrupt deceleration turning your Blackvue Camera into your own personal real time surveillance assistant.
The DR750GW 1 CH still retains all the main functions such as parking mode, voice messages, 3G sensor (shock sensor) and can support SDXC Micro SD memory cards up to 64GB as well.
Blackvue DR750GW 1 CH is a reliable and ideal single channel car camera for motorists who simply want to record driving scenes from the front of their vehicle. The Full HD video quality catches detailed footage of driving and never misses a moment of what is going on in and around your vehicle.
The DR750GW 1 CH is perfect for proof of your case in the unfortunate event of an accident, protection of your valuable property and record of scenic drives.