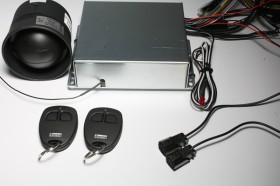 Sterling One
• Thatcham Category 1 alarm/immobiliser system, providing perimeter and ultrasonic interior protection
• Supplied with 2 x two button radio keys, self powered siren and a red status LED
• The system has full, in-built, CDL control to power/switch a vehicle's CDL system
• Dual immobilisation circuits
• Armed accessory, total closure or boot release outputs
• Last trigger diagnostics via status LED
Thatcham Category 1 alarm/immobiliser system, providing perimeter and ultrasonic interior protection.
Supplied with 2 x four button radio keys, self powered siren and a tri-coloured status LED.
The system has full, in-built, CDL control to power/switch a vehicle's CDL system.
Dual immobilisation circuits
Auxiliary siren, armed accessory, total closure, interior lamp illumination, headlamp illumination, 2-stage unlock, boot release or remote engine start/stop outputs (separate module required, remote start will invalidate the Thatcham category 1 status)
Last trigger diagnostics via status LED
Security Features
2 x two button radio keys (programmable, water and shock resistant with random 66-bit encryption to prevent scanning and
code grabbing. Lost or stolen radio keys can be programmed out)
Perimeter protection circuit for boot and bonnet (negative input)
Perimeter protection circuit for doors (positive or negative input)
Ultrasonic interior protection, manually adjustable
2 x immobilisation circuits, passively armed (18 amp continuous/30 amp max)
Manual arm using the radio key (or programmable auto arm, which automatically arms the system 60 seconds after the last
door is shut. Auto arm will not lock the vehicle's doors)
Auto re-arm can be programmed to re-arm the system if a door is not opened within 60 seconds of disarming the system.
Auto re-arm can also be programmed to re-lock the vehicle's doors
Last trigger identification via the dashboard LED, if the ignition is switched on upon disarming the system after an alarm
condition has occurred
Secure data linked, self powered siren included.
Convenience Features
Full central door locking/unlocking control
Armed output (negative 500mA max)
Total closure or a boot release output upon holding down the button nearest the keyring on the radio key for three seconds on
arming. A preset timed negative output of 500mA will be provided
Secure ignition PIN override
Silent arm and disarm (audible bleeps can be programmed back on, however this will breach current legislation)
Silent arm and disarm for one time only if audible bleeps are programmed on
Sensors excludable using the radio key
Thatcham "Category 1" Approvel No
TC2 – 1331/0105