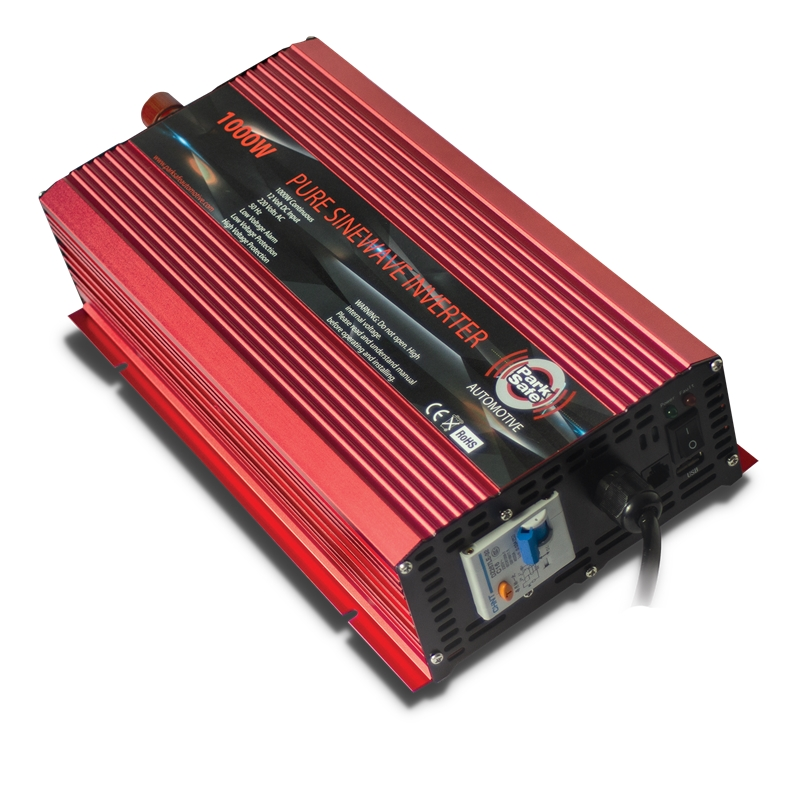 Elite Power inverters are a high quality product, all products are supplied with heavy duty leads fitted with terminal rings for easy connectivity to your battery. Our power inverters have multiple uses, whether this would be at home, outbuildings, caravan, motorhome, car, truck or boat the Elite range inverters give you a 220-240V power supply wherever you may need it.
Elite power inverters have advantages of being compact, lightweight, and provide limited noise, once connected to a 12V battery bank, you get 230-240V AC directly from the power inverters UK output socket giving you a stable power supply for running your electrical appliances.
Pure sine wave power inverters are suitable for an electrical product that has a circuit board, pure sine wave will power laptops to flat screen TV's and much more.
Input Voltage: DC-12V
Output Voltage: 200~240VAC
Output Frequency: 50Hz±1%
Output Wave Form: Pure Sine Wave (THD < 3%)
Converting Max. Efficiency: 90% (Full Loading) / 95% (1/3 Loading)
No Load Consumption: < 0.5A
The USB Output: 5V 2A
Output Power: 1000W
Max Constant Power Start : 1200W for 10 seconds
Efficiency: 90% (Full Loading) / 95% (1/3 Loading)
Low Voltage Alarm: DC 10.5V± 0.5V
Low Voltage Protection: DC 11.0V / 11.9V
Low Voltage Recovery: DC 11.0V / 11.9V
High Voltage Protection: DC 15V±0.5V
Short Circuit Shutdown: Reverse Polarity (External Fuse)
Over Temperature Protection: YES Temperature >75℃
Overload Shutdown: YES DC 15V±0.5V
Radiator Fan: YES, Temperature control
Remote Control: YES
Working temperature: -10℃~+50℃
Working humidity: 20%~90% RH Non-Condensing
Fitted RCD: Yes
Fitted Output Cable: Yes 2m With fitted UK Socket